sat07oct12:00 pm6:00 pmBlaine Harbor Harvest Festival12:00 pm - 6:00 pm Event Organized By: Blaine Chamber of Commerce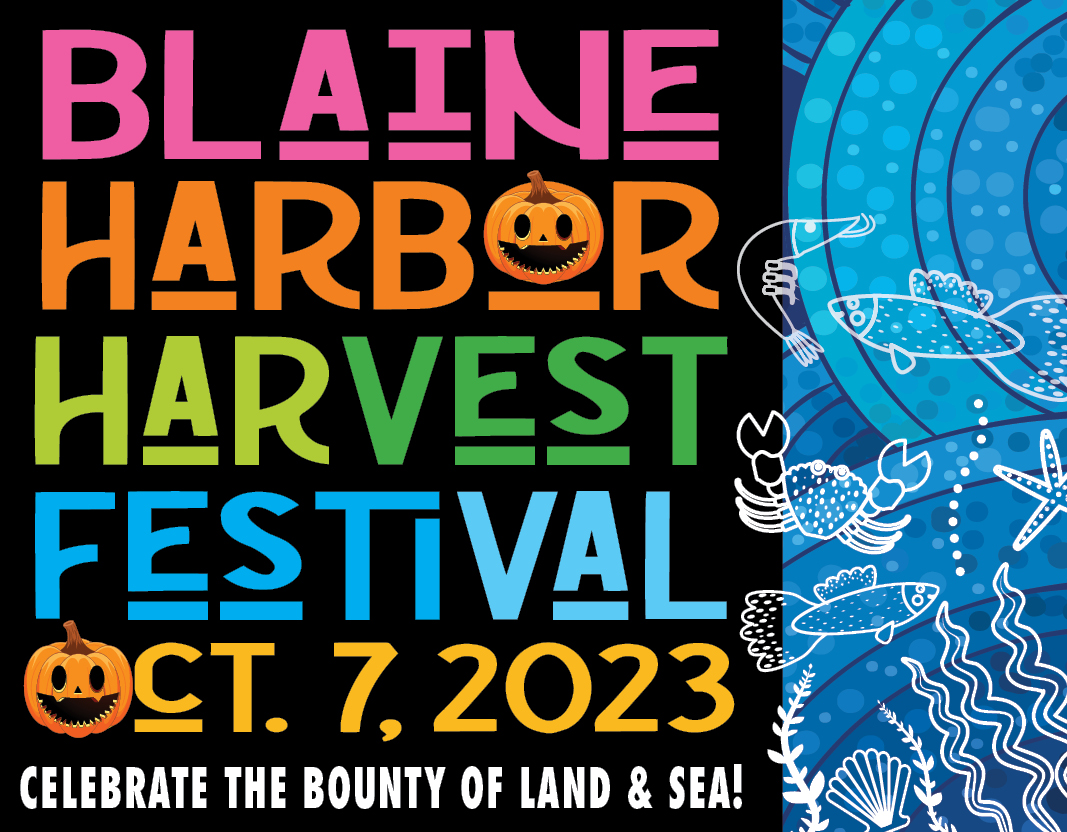 Time

(Saturday) 12:00 pm - 6:00 pm
Event Details
Get ready to dive into autumn at Blaine's Inaugural Harbor Harvest Festival!
Set your sails for a day of FUN, FOOD, FAMILY, & FRIENDS in #blainebythesea on Saturday, October 7th, from noon to 6 PM in downtown Blaine.
This isn't just any festival. It's a journey for all your senses! Bursting with colors, sounds, and flavors of the season, they'll be something for everyone in the family. Revel in the rhythm of live music and discover the joy of the bustling street fair, where you'll find the finest crafts and freshest produce from land and sea. Your taste buds are in for a treat and quench your thirst at a well-bodied, all-ages beer garden! Revel in the rhythm of live music with kids' activities galore!
WHAT TO EXPECT:
40 Craft Vendors –  Shop till you drop as we bring together talented craft vendors offering an array of unique handmade treasures, from intricate jewelry to beautiful artwork, and find that perfect fall gift or decor item.
Foodies Heaven with food vendors offering an array of food from land and sea and beyond! From savory delights to sweet treats, satisfy your taste buds with seasonal favorites that highlight the best of local produce and culinary creativity. And don't forget to savor Blaine's local restaurant scene, for their tantalizing journey through the vibrant food scene offering culinary delights!
Live Music to the rhythm as three fantastic bands providing a lively soundtrack throughout the festival.
– SpaceBand: a cover band focuses on R&B/Hip-Hop hits from the 90's through the 2000's. Put together by NASA, our mission is to pack every dance floor throughout the galaxy!"
– Dial Up: is dedicated to nailing every riff, fill, and solo of your favorite rock, pop, and alt hits from the 90's & 00's.
– Kickerville Band
All-Ages Beer Garden –  Enjoy the crisp autumn air while sipping on refreshing beverages at our all-ages beer garden. Whether you prefer a local craft beer or a non-alcoholic specialty drink, raise your glass in celebration of Blaine by the Sea's Harbor Harvest Festival.
Stroll-Shop-n-Eat in downtown Blaine! Step into a world of vibrant excitement and immerse yourself in the heartwarming spirit of downtown Blaine's restaurants and storefronts and experience all that is Blaine By The Sea!
So, mark your calendars and gather your friends for this FOOD, FUN, FAMILY-FRIENDLY event! Let's celebrate the season's bounty at Blaine's Inaugural Harbor Harvest Festival, from land to sea.
If you loved Blaine's OysterFEST, you don't want to miss Blaine's Harbor Harvest Festival! Remember to share this event with your friends! Let's spread the word. The more, the merrier!
Organizer