Alaska Packers
Association Museum
Alaska Packers Association (APA) Museum
9261 Semiahmoo Parkway
Blaine, WA 98230
NOW OPEN WEEKENDS: through Labor Day
Fri, Sat, & Sun: 1PM – 5PM
Cost: Free or by donation
WEBSITE
Housed in an original cannery building, the museum exhibits tell the story of days gone by and include a scale model fish trap, antique machinery, a gallery of historic photos, and an original 29-foot Bristol Bay sailboat that gill-netted salmon in the Bristol Bay fishery. Take the time to view "Sockeye and the Age of Sail" video documentary with early day film footage of the APA Star Fleet of tall ships under sail, connecting Blaine, the Bristol Bay salmon fishing, and San Francisco in the fortunes of fishing. Allow 1 hour and 45 minutes to view the exhibits and view the documentary. One will find the museum full of artifacts from the cannery telling the story of fishing and canning of days gone by. The Alaska Packers' Association is best known for operating the "Star Fleet," the last fleet of commercial sailing vessels on the West Coast of North America, as late as 1927. The APA is perhaps best remembered for operating one of the last fleets of tall ships. Although this invoked the romance of the days of sail, reliance on wind rather than steam was a way for the company to economize.
The APA Museum sits in an ideal spot on Semiahmoo Spit that's perfect for bringing a picnic lunch and explore the beaches of Semiahmoo Park as well as scenic walking and biking trails along this unique 1.25-mile natural spit.
The museum is run by Drayton Harbor Maritime Association, which also operates the historic Plover Passenger Ferry, originally used to ferry workers back and forth to the cannery from Blaine. The Semiahmoo Resort-Golf-Spa now sits on the bones of the old cannery.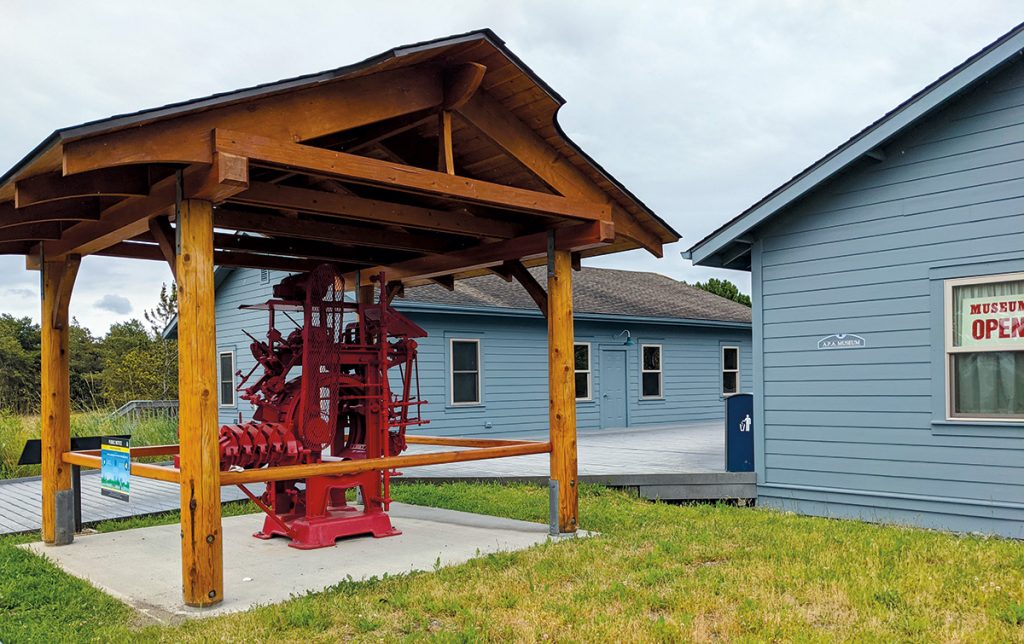 Cannery Lodge Rental Facility
Next door to the APA Museum is a former bunkhouse and office of the old Alaska Packers Cannery. Now transformed into a receptions/meeting hall and events rental facility, the building has scenic views of Semiahmoo Bay, Drayton Harbor and Mount Baker.
The Raven and Salmon Woman Totem Pole
A story-totem pole sits front-side of the Cannery Lodge building called "The Raven and Salmon Woman" carved in 1962 by Morrie Alexander a master carver of the Lummi's and carved in the style of the Salish Indians. The totem pole features a salmon, woman, grizzly bear and thunderbird.
For more information on the APA Museum, click here.