Get out on the water and experience Blaine in a new way!
Blaine offers many locations to enjoy kayaking and paddle boarding with family, friends or just yourself. Bring your own kayak, or standup paddle board (SUP), or rent one at Semiahmoo Resort Beach Activity Center located behind Semiahmoo Resort. Check out these popular places to kayak and paddleboard in Blaine.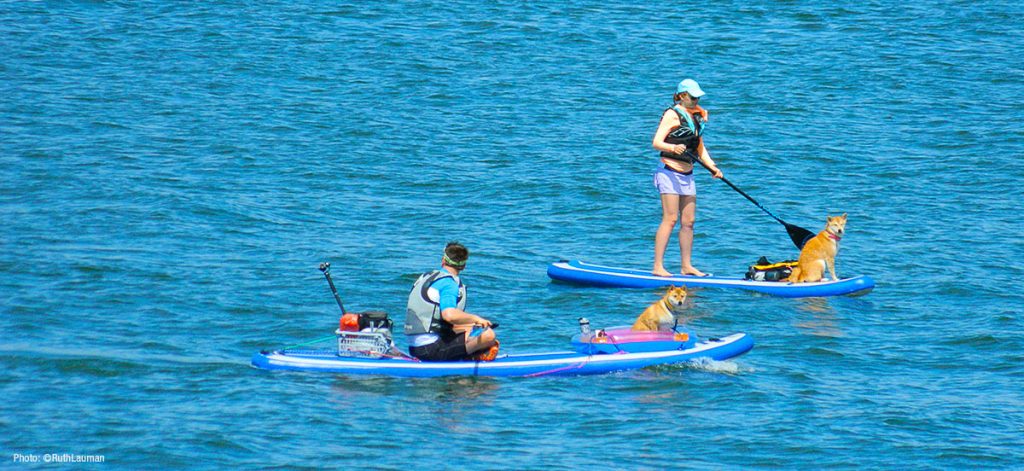 The most popular destination is the inlet to Blaine Harbor by Semiahmoo Resort-Golf-Spa. Paddling out from here one can see harbor seals bobbing their heads for a curious view and the common Loon diving beneath the water's surface for fish. This is a popular beach location in summer, with a sandy beach sitting between two wharf buildings that's perfect for launching kayaks and paddleboards. It's also a fantastic spot for lounging in a beach chair and watching the kids swimming. Rent your equipment right here at one of the wharf buildings housing the Semiahmoo Beach Activity Center.
Kayaking Semiahmoo Bay along Semiahmoo Park shoreline offers extraordinary views of White Rock, BC and the Strait of Georgia along with the coming and goings of harbor sailboats and an occasional commercial fishing boat. This is a favorite spot for those on the water sunsets Semiahmoo style.
The calm waters of Drayton Harbor
Kayak along inner Drayton Harbor shoreline viewing local wildlife including otters, harbor seals, and migratory birds. Amazing views can also be had of Mt. Baker to the east and to the north the mountains of Canada's Golden Ears.
For a more leisurely paddle, try the calm, still waters of Blaine Marina. Here you can view diving Loon's, an occasional otter or harbor seal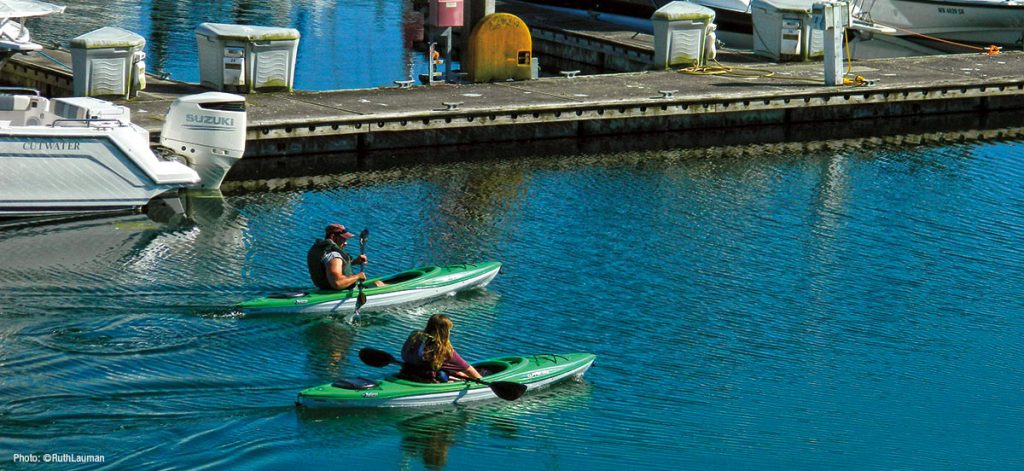 Further to the east side of Drayton Harbor is California Creek a small creek and estuary. Here you will find a small parking area by the bridge over California Creek off Drayton Harbor Road. Though not an official kayak launching area, people do set off from this point for a leisurely paddle of the harbor and creek. While paddling here, view migratory birds, soaring eagles, blue herons, deer, and an occasional seal. This location will be the future home of California Creek Estuary Park that will be part of Blaine-Birch Bay Park and Recreation, District 2.