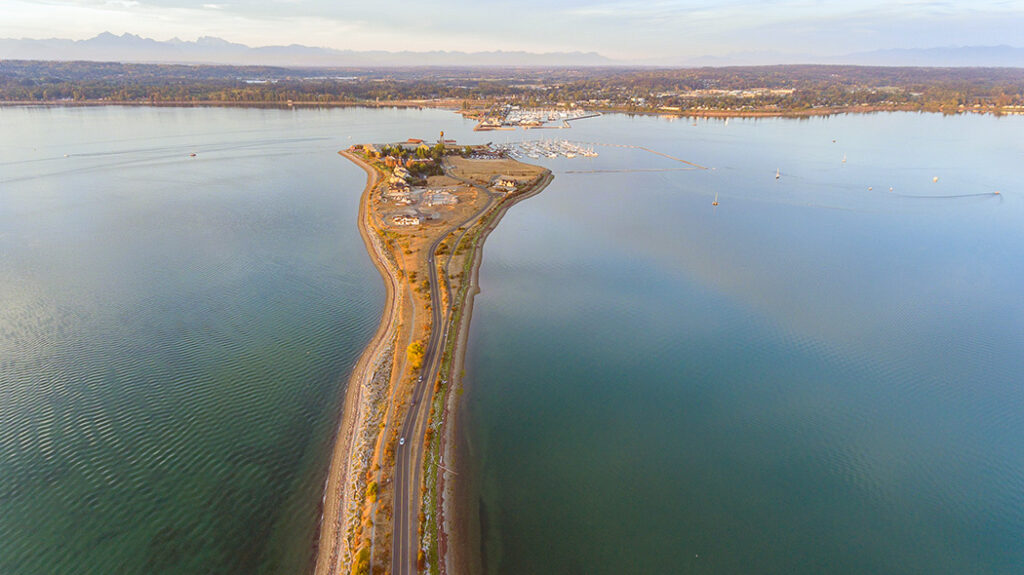 Semiahmoo Spit is best known for being home to some of the most popular beaches in the region. The Drayton Harbor side is made up of pebble and cobble, low energy beaches with stunning views of Mt. Baker, the Twin Sisters, and other snowcapped mountains. The Semiahmoo Bay side consists of a sandier, higher energy beach with extensive tide flats at low tides, and fantastic views of the Canadian Rockies, White Rock B.C. and the Gulf and San Juan Islands.
Both beaches have a wide array of wildlife, and an extensive variety of birds. A very popular activity among visitors is to explore the ocean floor during low tide and collect sand dollars. At the end of Semiahmoo Spit you'll find a small sandy beach, great for swimming and a favorite of many locals, near the Historic Plover Passenger Ferry Dock. Parking is available at Semiahmoo County Park and near Semiahmoo Resort.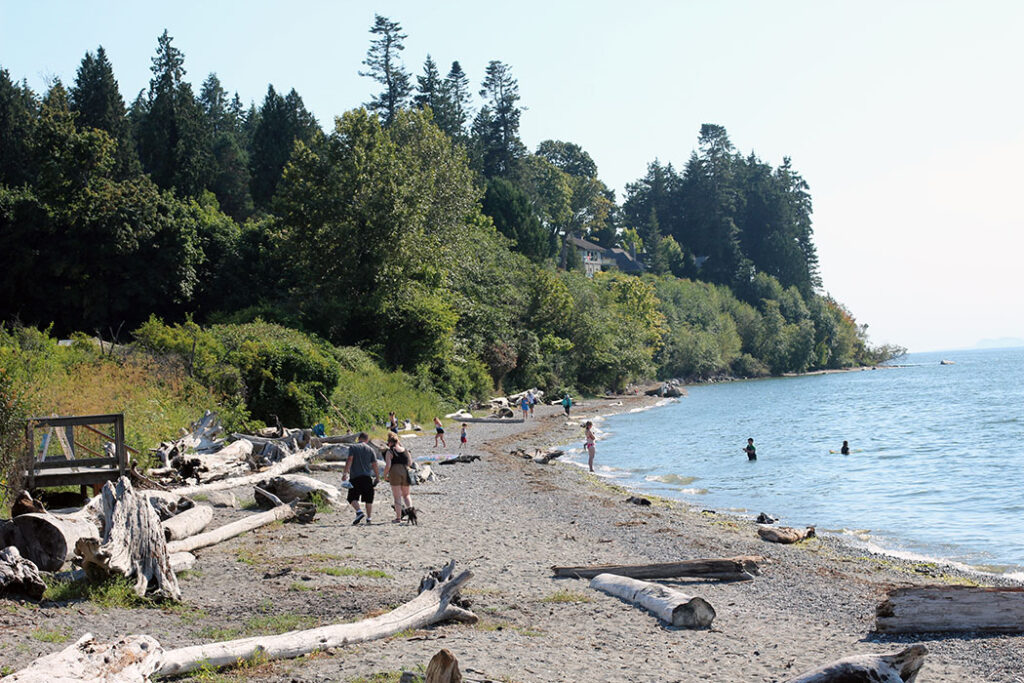 Semiahmoo Bluffs is Blaine's longest, most secluded beach walk that travels along the base of the towering bluffs of Semiahmoo. The trek begins from Semiahmoo County Park and proceeds west towards Birch Point, on beaches and tidelands that are owned by the City of Blaine. The houses in this area are build hundreds of feet above this ¾ mile shoreline and primarily out of sight, allowing you to enjoy this quiet Pacific Northwest beach and its captivating views of the islands, and stunningly colorful sunsets.
You'll find a large glacial, erratic boulder at the half way point, tall shoreline bluffs with interesting geology, and a total of approximately 1.5 miles (roundtrip) perfect for beach combing. The city limits end near the first home directly on the shoreline, so please be respectful of private property, and enjoy this location from the beach and tidelands. Parking and restroom facilities are available at Semiahmoo County Park.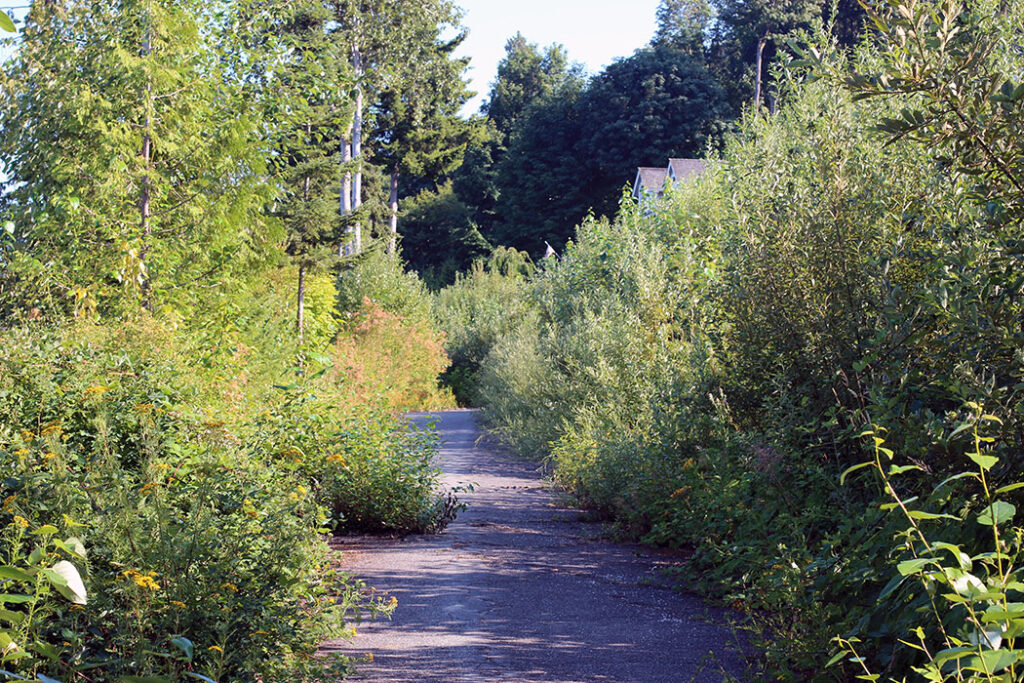 The northeastern side of Drayton Harbor is referred to as Drayton Cove. These prominent public beaches are owned by Whatcom County Parks, and the City of Blaine. As you travel head east leaving the County park, the sand and gravel beaches gives way to mudflats with a forested shoreline.
At high tides the beach can be difficult to traverse and be wary of the mudflats. Drayton Cove trail runs along the top of the shoreline for easy access.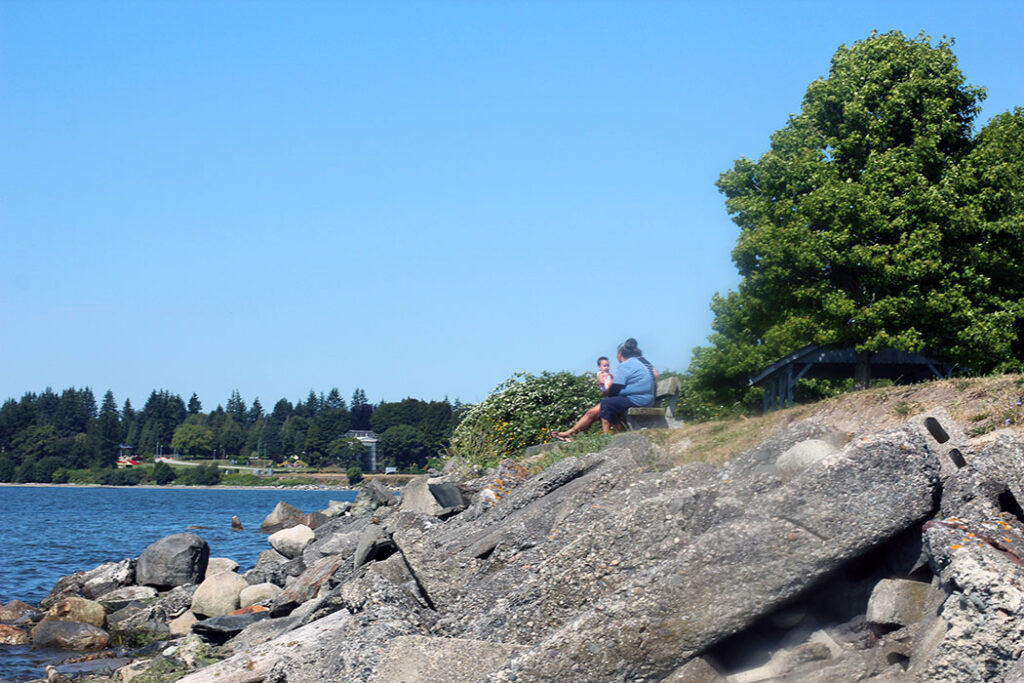 This large waterfront park is a prime destination for bird watching. The area attracts thousands of water fowl and other birds each year, and the humans that enjoy watching them. The park has water-side shelters for bird watching and picnicking, and Marine Park is a key venue for the City's annual "Wings over Water" festival. There are trails for walking and benches for sitting and enjoying the views across Boundary Bay and Semiahmoo Bay to Pt. Roberts, White Rock, Semiahmoo and the San Juan Islands. Combined with a walk to the Jorgensen Pier and Marina the area offers a 2-mile waterfront stroll. 
Although water access is available, accessible beaches are limited, and most of the shoreline is armored with rocks and concrete to slow erosion. Marine Park is also home to a charming outdoor amphitheater with bench seating and an open lawn, and a beautiful new nautical themed playground for children, recently constructed in 2015. Come out and take a look!
Located off Runge Avenue, the Dakota Creek Kayak Launch features public parking directly across the street from the access trail. The launch is located at the end of a short trail down to the Dakota Creek estuary, where kayaks can be launched directly into the creek during high tide, or on a mud and sand beach at lower tides. This site is best used during higher tides due to mud flats just off shore.
The launch offers excellent access to the estuary and southern part of Drayton Harbor. Anglers will enjoy this site due to the easy access to Dakota Creek, which provides opportunities for salmon fishing. There is a short side trail to a viewpoint and bench overlooking the mouth of the estuary, which offers accessible views of the creek and wildlife.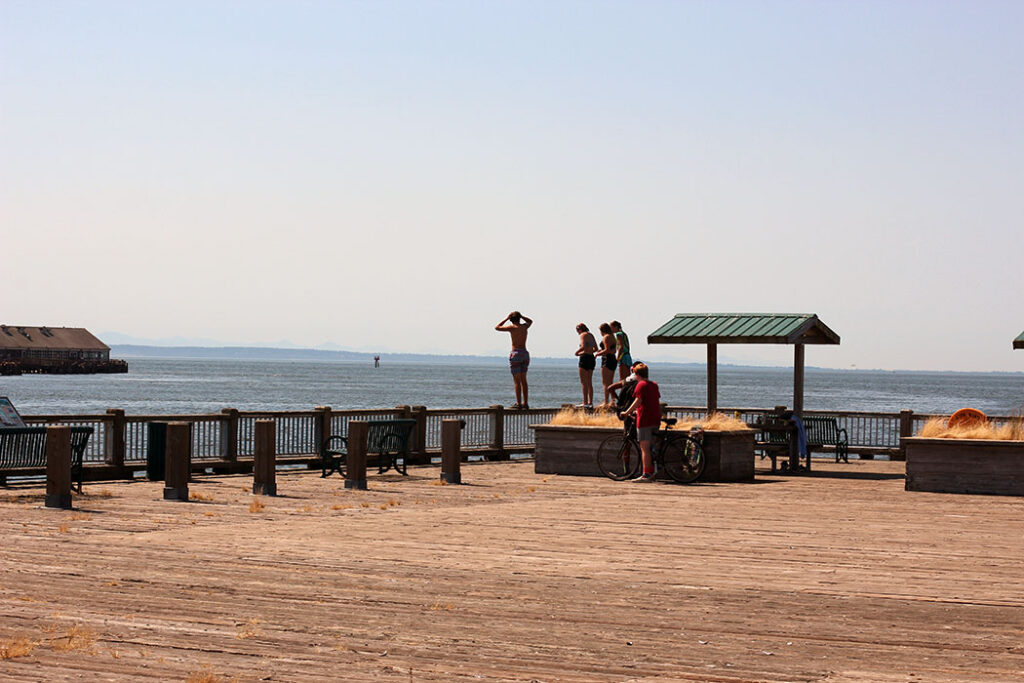 Jorgensen Pier is a public pier operated by the Port of Bellingham that offers exceptional access to captivation views of Semiahmoo Spit, Mt Baker, and the local waterways. While not a true beach, fishing and crabbing are popular activities, and benches, tables and shelters offer places to sit and relax to watch the boats and take in the amazing views. Short-term parking is available just a short walk from the pier.