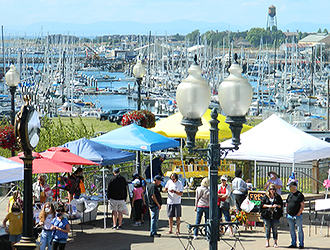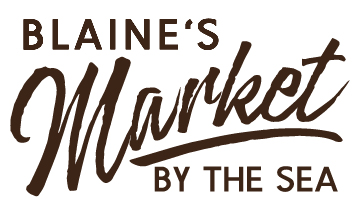 Every Saturday – 9AM to 2PM
Come explore local crafts
and have a fun day in Blaine by the Sea!
Blaine's Market by the Sea is an open-air market sitting on G Street Plaza in Downtown Blaine. Featuring an eclectic mix of local handmade crafts, jazzy accessories and baked goods. Explore the market and find; handmade crafts, plants & planters, kids crafts, pottery, embroidery, jewelry & accessories, photography, tree soap, wood crafts, baked goods, jam & jellies and more.
Blaine's Market by the Sea is within walking distance to several other stores and restaurants.
Blaine's Market by the Sea Vendors:
Joye Treasures – license plate crafts
Phyllis Ashby – fabric crafts
Harrison Hills Steelworks – metal art
Without Directions Pottery – pottery
Sew Inspired – fabric crafts
Madi's Baked Goods
Kathy Heaverlo – embroidered masks & dish towels
Northwest Originals – fabric crafts & items for kids
Grey Cat Gardens – plants & planters
Tractor Dust Produce – veggie starts
Liane Budden – art
Raindrops Jewelry – jewelry
Farmette Fresh – jam, jelly, cards
Tink's Treasures – jewelry & accessories
Renskers – wood crafts
Laura Hedges – handcrafted accessories
Tea Tree Soap
Dean Brown – pine needle trivets, stone jewelry
Blaine's Market By The Sea
Every Saturday – 9AM – 2PM
G Street & Peace Portal Drive
Blaine, WA 98230
FOR VENDING OPPORTUNITIES, CONTACT:
EMAIL: Carroll Solomon,
Blaine Welcome Center
546 Peace Portal Dr. (across the street from the Market by the Sea)
360-332-4544
Accepting anything hand crafted or home grown.
Kid vendors welcome.