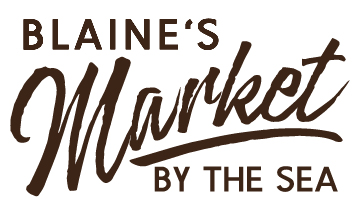 Saturday's Market from 10 AM-2 PM on G Street Plaza.
Blaine's Market by the Sea is an open-air market sitting on G Street Plaza in Downtown Blaine, featuring an eclectic mix of local produce, handmade crafts, jazzy accessories, and baked goods. Explore the market and find; handmade arts, plants & planters, kids crafts, pottery, embroidery, jewelry & accessories, photography, tree soap, wood crafts, baked goods, jam & jellies, etc.
Blaine's Market by the Sea is within walking distance of several other stores and restaurants.
Blaine's Market By The Sea
Saturday's thru October 15 – 10AM – 2PM
G Street Plaza & Peace Portal Drive
Blaine, WA 98230
2023 VENDING OPPORTUNITIES, CONTACT:
Email: Carroll Solomon, Blaine Chamber of Commerce
Blaine Welcome Center
546 Peace Portal Dr. • 360-332-4544
$10.00/day for Blaine Chamber members.
$15.00/day for non-members.
Nonprofit cost is $5/day.
Join the Blaine Chamber of Commerce!
Visit these Blaine Market by the Sea Vendors!