fri25augAll Daysun27The Wave Art Studio Tour(All Day) Event Organized By: Blaine Arts Council
Time

august 25 (Friday) - 27 (Sunday)
Event Details
Join the Blaine Arts Council on August 25 – 27, 2023, as they kick off "The Wave"
Enjoy a full weekend event showcasing the vibrant art community in Blaine. Begin this experience with a ticketed Gala Friday at Blaine Boating Center – art, music, and wine! Meet local artists and discover their work while promoting Blaine as a cultural and creative destination. Take advantage of this exciting occasion!
August 25 • 6-9 PM
The Wave Opening Night Gala
Location: Blaine Boating Center
235 Marine Drive #2, Blaine, WA 98230
Tickets are now available for a magical and casual evening at the stunning Blaine Boating Center, with the picturesque Blaine Harbor Marina as your backdrop on Marine Drive. This enchanting setting is where the Blaine Art Council's Wave 🌊 Art Tour Opening Night Gala will occur on Friday, August 25, 2023 from 6-9 p.m.
The Blaine Arts Council is dedicated to fostering creativity and promoting local talent in the Blaine, Birch Bay, and Semiahmoo areas. This special night is your chance to join their mission and celebrate the beauty of art.
Get ready for an exciting program that includes meeting renowned artists from the region, purchasing their breathtaking pieces, and delighting your taste buds with delicious treats from the nosh menu, all while sipping on a glass of wine. 🍷🧀🍇
Purchase your tickets for the Opening Night Gala for $25/pp online here. Plus, prepare to be captivated by an amazing Silent Auction, Wine Pull, and live music that will keep you entertained throughout the evening. Don't miss this incredible opportunity to immerse yourself in the fantastic creations of our talented local artists as we kick off the weekend Artists Tour!
So, what are you waiting for? Grab your tickets now, and let's paint the town red together!
August 26-27 • 10 AM – 5 PM • Art Studio Tours
The Art Studio Tours, both Saturday and Sunday, will be free, self-guided excursions providing a unique opportunity to see the diversity of talent that Blaine, Birch Bay, and Semiahmoo communities offer.
Over 25 artists will be in attendance for this year's THE WAVE Art Studio Tour. Artists will open their home studios to the public for this self-guided tour, allowing people to see their work, studios, and learn about their techniques. Plus, other locations for grouped artists will be at:
• The Blaine Boating Center, 235 Marine Drive, Gate #2. Several artists will be at this location from 10 AM to 5 PM, both Saturday and Sunday.
• Blaine Community Center Pavilion, 635 8th Street. Several artists will be at this location from 10 AM to 5 PM, both Saturday and Sunday.
Be sure to invite your friends and family to come along!
Organizer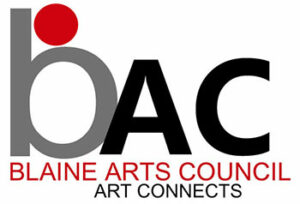 Blaine Arts CouncilThe Blaine Arts Council supports local artists, providing community connections and cultural events to help establish Blaine as a vibrant art destination. The Blaine Arts Council believes art is essential to our culture and vitality. Contact the arts council at:blaineartscouncil@gmail.com